The Trial of Pádraig Pearse-successful Canadian tour
Gen John the Chastelian, who chaired the Independent International Commission on Decommissioning as part of Peace Process in Ireland, was one of the many special guests who attended the final tour performance of The Trial of Pádraig Pearse in the Court of History at St Brigid's Church in Ottawa on Nov 9th.. A unique feature of the drama production was the role of the audience as jury, who were encouraged to debate the issues presented by prosecution and defense, and who then had the chance participate in the final jury vote (General de Chastelain didn't reveal how he voted).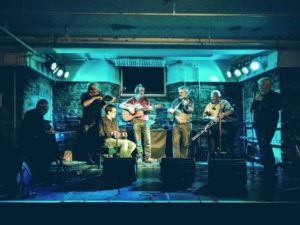 The tour, organised by the Thomas D'Arcy McGee Foundation, with sponsorship from The Irish Embassy, Ottawa, Centenary Celebrations Fund, and Joe Goss, Newry, had just completed a successful itinerary which included Winnipeg, Montréal and Ottawa.
"The trip was an outstanding success, surpassing all our expectations," enthused Tommy Fegan, tour coordinator. "There were two dimensions to the Tour, the trial, and a complimentary presentation of Irish traditional and folk music. Newry's award-winning Newpoint Players provided the lead actors, with production by Donal O'Hanlon, while the music was led by Gerry O'Connor, prominent fiddle player with the Irish Rovers in Canada, and supported by Donal O'Hanlon guitar and songs, Tommy Fegan, uilleann pipes and whistles, and local musicians in all three cities.
A unique aspect of this project was the transatlantic partnership which was critical element of the drama and the music productions. In each city, three actors from the local community played alongside four actors from Ireland. Scripts had been sent in advance, and the first and only rehearsals of the integrated production took place just hours before each performance. Equally, with the music Gerry O'Connor had organized musicians in each city to take stage with the Irish musicians and provide a showcase of top-quality Irish traditional music and song.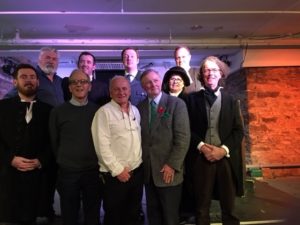 The Trial of Pádraig Pearse was especially commissioned for The Annual Thomas D'Arcy McGee Summer School in Carlingford, Co Louth in August 2016. The author, Anthony Russell, historian, academic and author, is also one of the key organisers of the annual summer school. Anthony has already begun the research for an equally riveting and controversial play for the 2017 summer school, which will have as its theme, Canadian Confederation and Confederation & Irish Fenianism.  (See footnote below)
"We are indebted to all the local organisers, actors, and musicians in Winnipeg, Montréal and Ottawa who worked so hard for many months to make the joint productions so successful," concluded Tommy.
Footnote;
Thomas D'Arcy McGee Summer School, August 21, 22nd and 23rd
https://thomasdarcymcgee.com/summer-school-2017/–
The year 2017 marks the 150th anniversary of Confederation in Canada and of a Fenian Rising in Ireland. Thomas D'Arcy McGee was deeply involved in both events — as a Father of Confederation, and as an implacable opponent of Fenianism.  Canadian Confederation, he believed, could provide a model for Ireland that would undercut Fenian revolutionaries and pave the way for Irish home rule. The 2017 D'Arcy McGee Summer School explores the hidden connections between constitutional change in Canada and revolutionary movements in Ireland, and their significance for both countries. (D. Wilson, Sept, 2016)