3rd Annual Thomas D'Arcy McGee Summer School
2014 saw the Summer School enter it's third year, and with participant numbers growing each year it was decided to move to the Four Seasons Hotel in Carlingford to accommodate the larger crowds.
As with the previous two years there was some heavy hitters from the world of academics and history in attendance, including Paddy Fitzgerald and Jason King, who delivered their take on D'Arcy McGee and how his ideas were similar to events of today.
Once again the ever popular trial drama was one of the highlights of 2014, this time it was the turn of Charles Trevelyan to take to the stands as the theme of the Summer School looked at the Famine in Ulster. Once again the folk night was a huge success and allowed those in attendance to unwind and enjoy some music and craic.
Increasing in popularity each year was the politicians forum which concludes the proceedings each year. Once again they didn't fail to provide a lively and at times quite a heated debate, which could have rolled on for several more hours.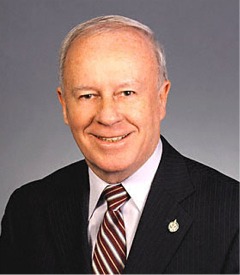 Please view the final programme of events for the Thomas Darcy McGee Summer School 2014.