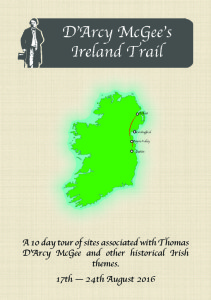 D'Arcy McGee Tours can design, and deliver tailor- made packages for groups of 6 or more students, academics or the curious cultural tourist, on request. Cultural Tours Programmes include visits to major cultural venues such as the Titanic Exhibition,...
A selection of highlights from the summer school. A selection of highlights from the launch of the summer school on May 8th in Taaffes Castle, Carlingford, Co. Louth
Thomas D'Arcy McGee Ireland 2016 Tour
Visit to Ireland
Wednesday 16th -Wednesday -23rd August, 2016
Wed 16th August
Arrive Dublin; transfer to Four Seasons hotel, Carlingford
Thursday 17th
9.00 am Visit to Dublin
10.30 Kilmainham Jail
2.00 PM Guinness Brewery Tour
3.30- 6.00 Dublin guided Tour/Shopping
7.30 Diner, Fitzpatrick's Restaurant
9.30 Irish traditional Music Session, Carlingford
Friday 18th
9.30 am Depart for Belfast
11:00 AM Visit Titanic Exhibition Centre, Belfast. http://www.titanicbelfast.com/
1:30 PM Lunch .Stormont Buildings, Belfast. (Guided Tour) http://www.discovernorthernireland.com/Parliament-Buildings-Stormont-Belfast-P3060
3:30 PM Troubles Tour west Belfast
5.30 PM Depart Belfast
8.00 PM Dinner in Carlingford
Saturday 19th
10.00 am Shopping in Newry, Co Down
1.00pm Lunch Canal Court hotel, Newry
2.30 pm John Mitchell Tour
4.30 Return to Carlingford
7.30 Dinner in Carlingford
Golf option ;Greenore Golf Club
Sunday 20th
Free Day.
Option 1 New Grange/ Boyne etc.
Optional 2;Guided tour Of Carlingford,
Tour of Carlingford includes a visit to the site of D'Arcy McGee's birthplace, D'Arcy McGee's Monument and the D'Arcy McGee Exhibition Centre.
http://www.carlingford.ie/index.php/history
Golf option ;Portmarnock Golf Club
Monday, 21st & Tuesday 22nd
Thomas D'Arcy McGee 5th Annual Summer School
Carlingford Heritage Centre
Keynote Speaker; Professor David Wilson, Canadian National Biographer and keynote speaker, is the author of two award winning biographies on Thomas D'Arcy McGee
An engaging, entertaining academic and political programme, as in other years, will include drama and music in the idyllic setting of Carlingford.
Theme:
D'Arcy McGee, 1916 and Revolutionary Republicanism
Internationally renowned historians, academics, politicians and political activists will debate McGee's relevance to the current peace process, and the changing nature of revolutionary republicanism.
Fringe Events:
Courtroom Drama – 'The Trial of Padraig Pearse' (Prosecutor: Thomas D'Arcy McGee – Defence Lawyer: John Mitchel)
Exhibition: The Legacy of Revolutionary Republicanism – The United Irish (1798), Young Irelanders (1848), the Fenians (1866), the 1916 Uprising and the 'Troubles'.
Canadian Irish Folk Night with special guest from both sides of the Atlantic
Wednesday 23rd
Return to Canada